Our Approach to Materiality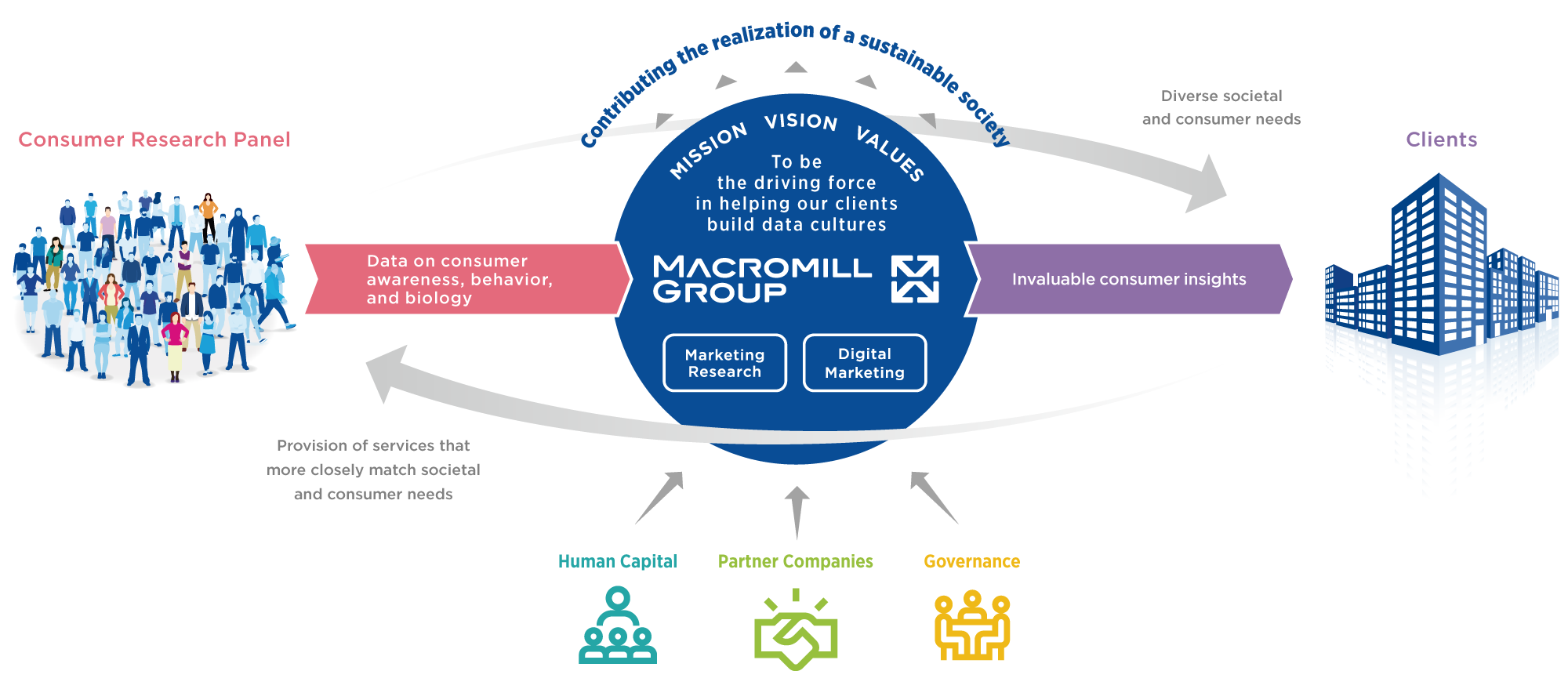 The Macromill Group has identified nine material issues as key priorities for achieving sustainable growth for both society and for our Group. To do this, we examined the foundation of our corporate activities and our impact on stakeholders. We also considered opportunities and risks in light of changes in the business environment.
As a company that supports the marketing activities of client companies, we will forge links between them, consumers, and society to drive innovation. This will provide a source of value creation through which we will help realize a better society.
To provide solutions to solve our clients' marketing challenges, our most important asset is our talent. We will maintain and improve employee engagement so that our diverse workforce can fully exploit their abilities and thrive in their work.
Clients
Materiality
1. Solving marketing issues
Outline

Macromill Vision:


We aspire to be the driving force in helping our clients build data cultures by utilizing our data-native approach to solve today's marketing challenges and support business success
Main Initiatives

Build relationships as marketing partners
Help to instill data-driven decision-making (building a Data Culture)
Pursue solutions and services aimed at solving social issues, including achieving a sustainable society
2. Creation of new value through data utilization
Outline
Provide new value by helping to use data, amid increasing adoption not only in the field of marketing but also throughout business
Main Initiatives

Start and strengthen data utilization support (data consulting) business
Develop innovative data-driven services, including marketing activation support business
Related SDGs
Consumer Research Panels
Materiality
3. Find more accurate consumer insights
Outline
Uncover accurate consumer insights using our strong relationships with our proprietary panels that represent consumers and deliver them to the world. In doing so, provide new value not only to client companies but also to society as a whole
Main Initiatives

Strengthen relationships with our proprietary panels. Expand data types
Explore, in our own research, market needs in terms of perceived appeal and value
Publish a wide range of research results, such as the Macromill Weekly Index and voluntary survey reports
4. Promote safe and secure data handling
Outline
Obtain data only after building trusted relationships with members of our proprietary panels. Take responsibility for providing assurance and safety, which should be the highest priority in data utilization, thoroughly managing information and strengthening security
Main Initiatives

Provide appropriate explanations and permissions for our proprietary panels when obtaining data
Provide reliable data of the highest quality in the industry and pursue the best quality control methods to meet the needs of the times
Establish and comply with internal rules based on the Information Security Basic Policy
Related SDGs
Human Capital
Materiality
5. Establishing a diverse working environment
Outline
Create an environment that respects the individuality of employees and taps into their unique abilities, perspectives and experiences
Main Initiatives

Promotion of Diversity and Inclusion
Support for employees to help balance work and family care
Promotion of women's greater participation
6. Provide an opportunity to challenge new possibilities
Outline
Develop a workplace that enables flexible, independent career development and choice in response to changes in the environment
Main Initiatives

Implement training programs and skills development to enable employees to take on the challenge of growth opportunities
Encourage a diverse career path
7. Educating data-native talent
Outline
Develop the talent to inherit the data know-how that Macromill has accumulated since our founding. These are the people who will provide value using a high level of expertise and advanced thinking for a wide variety of client companies
Main Initiatives

Implement professional development programs and training
Acquire talent through M&A and mid-career hires
Develop talent through industry-academia collaboration and partnerships
Related SDGs
Partner Companies
Materiality
8. Open Innovation
Outline
Work to use new digital technologies and solve increasingly complex marketing challenges. Accelerate innovation by building open partnerships and actively employing outside resources to fill gaps in in-house knowledge
Main Initiatives

Expand collaborations and partnerships
Create business ecosystems in collaboration with partners across a range of industries and business categories
Aggregate diverse ideas and technologies to create new markets and business models
Related SDGs
All Stakeholders
Materiality
9. Governance
Outline
Amid dramatic social change, form a sound organizational culture and strengthen governance to enhance corporate value over the long term
Main Initiatives

Maintain and build an optimal governance structure
Ensure compliance with laws and regulations; promote compliance management
Promote risk management activities
Ensure fairness and transparency
Build an organizational structure with high ethical standards