Initiatives for Certain Stakeholder Groups

Consumer Research Panels
Uncovering accurate consumer insights
The Macromill Group's business model
and consumer research panels
We have built our own consumer research panels (proprietary panels) over the last 20 years since our foundation. This panel network gives us a strong competitive advantage by offering both high-quality data and scale. For instance, in Japan, our panel equates to 1% of the national population.
We own the largest digital measurement panel in Japan. The evolution of digital devices has enabled us to provide behavioral data on the PC and smartphones since 2014. For this reason, the results of the questionnaire and the actual behavior data can be analyzed together. This makes it possible to provide a deeper evaluation and analysis based on actual contact history and awareness.
In addition, we also have almost 10 years' worth of data from 30,000-panel members who scan the barcodes of their daily purchases. We provide this as a database service that client companies use to analyze how their marketing initiatives are reflected in consumer buying behavior.
The data we acquire from our proprietary panels become deeper, richer and more diversified than clients can secure on their own. Moreover, it's including the data which is difficult to acquire by clients themselves. By integrating the data held by client companies with data from our proprietary panels, we can predict the results of clients' marketing activities and analyze the results in more detail.
Obtaining and providing more accurate data and insights from consumer research panels drives smarter client decisions. We believe that this will in turn benefit consumers and society as a whole.
Obtaining a range of data from our independently constructed consumer research panels (proprietary panels)
*Please scroll horizontally to view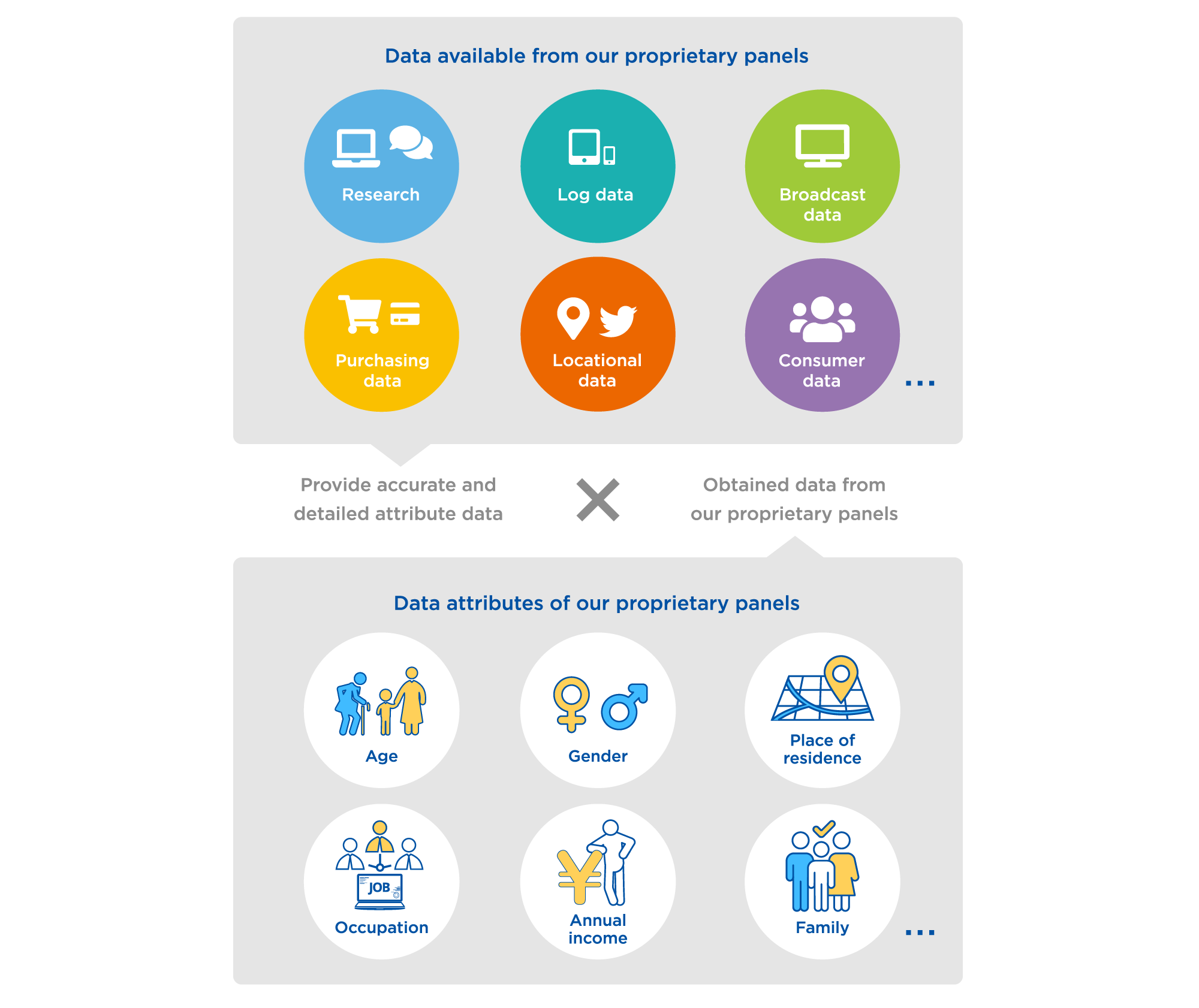 Publication of independent survey reports
and fixed-point survey data
We obtain data and insights from our proprietary panels and publish them free of charge as fixed-point data and independent research reports. Some of the published data has been used in the Japanese Cabinet Office's 'Cabinet Meeting Documentation about the Monthly Economic Report'. We believe that these initiatives help us to play a more direct role in realizing a sustainable society.
Safe and Secure Data Handling and Promotion
High quality panel data
and safe handling
The Macromill Group pays a portion of the service fees it receives from client companies to the consumer research panel as rewards (redeemable points). This ensures the collection of high-quality information.
We implement rigorous quality control on the consumer research panels and the data obtained from them. We employ a range of methods to improve and ensure the accuracy of responses and the quality of data. These include using technology to eliminate fraudulent responses and developing new quality control methods based on the specialist research findings of Macromill Research Institute.
In addition, we have explicit permission from our consumer research panels to obtain and utilize various marketing data, including research data. With privacy protection regulations such as GDPR (EU General Data Protection Regulation) being strengthened in many countries these days, we stringently manage the information we receive from our client companies and consumer research panels and are actively working to strengthen information security. We see these efforts as part of the quality of the services we provide.
Quality control policy for Macromill monitors (Japanese only)
https://www.macromill.com/advantage/monitor_policy.html
Information security policy (Japanese only)
https://www.macromill.com/security.html
Privacy policy
https://group.macromill.com/privacy.html
Macromill quality control system
*Please scroll horizontally to view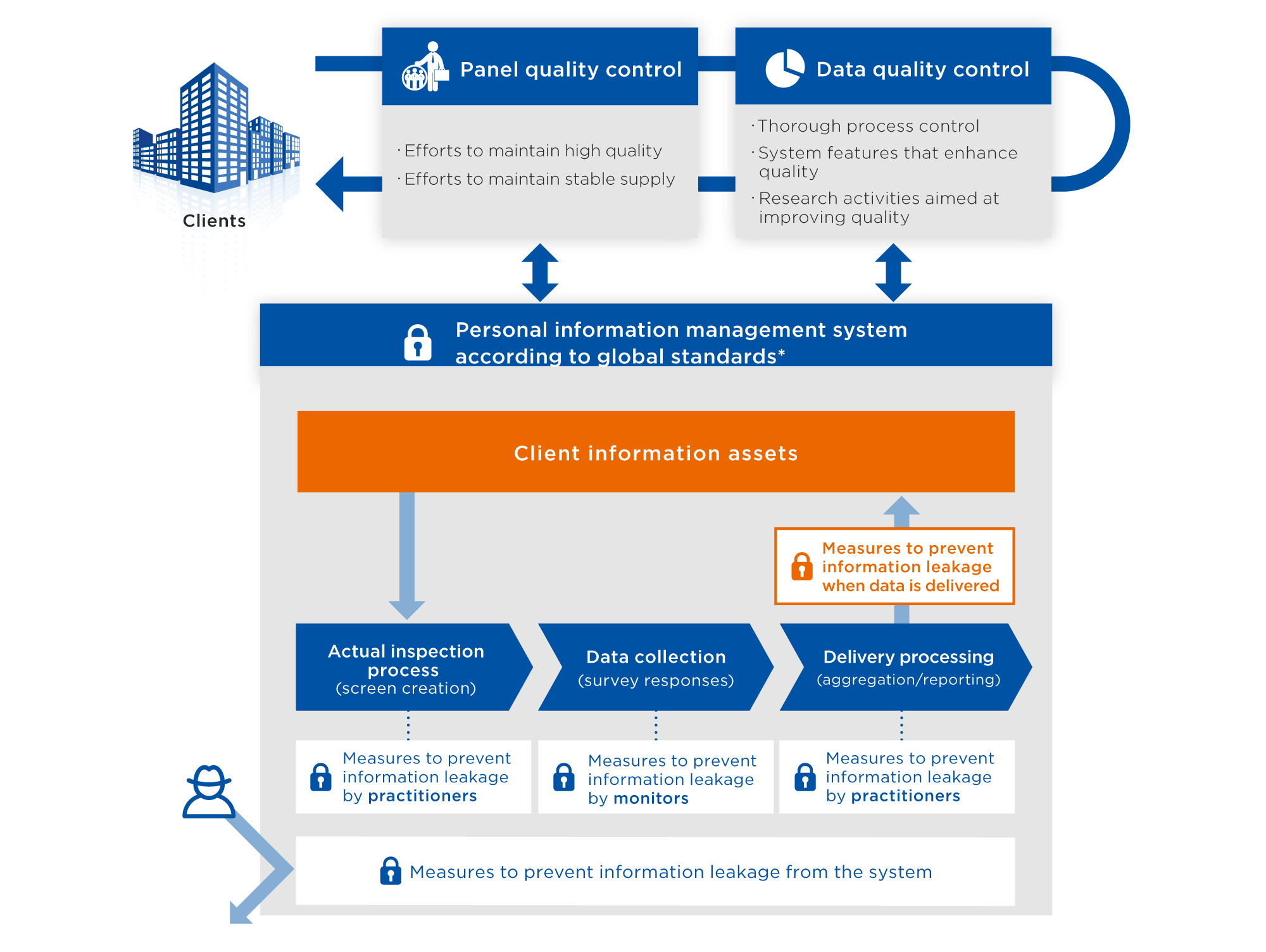 *To protect the personal information of Macromill monitors, we comply with the ICC/ESOMAR International Code of Conduct for the marketing research industry established by the European Society for Opinion and Marketing Research (ESOMAR), as well as the Marketing Research Code of the Japan Marketing Research Association. In addition, Macromill has implemented appropriate measures to ensure the anonymity of monitors and the storage and management of personal information. We have established a Personal Information Protection Policy. Our Personal Information Protection Management System ensures its appropriate and effective implementation. For details, please refer to the Privacy Policy on the Macromill website.