Initiatives for Certain Stakeholder Groups

Human Capital
Creating an Environment
Where a Diverse Workforce Can Thrive
Promotion of diversity and inclusion
The Group views diversity and inclusion as vital to improve the value we bring to our clients as well as for meeting our corporate social responsibility goals.
Since 2015, under the initiative of our Diversity and Inclusion Promotion Committee, we have been working to create an environment and culture where individual diversity is respected and allowed to shine.
In particular, from 2021 onwards, we set women's career advancement as a major theme and surveyed our female employees on the topic. The results are informing measures to explore and resolve career-related issues for each individual female employee. As part of this effort, we have developed a skills inventory tool for career support. We are validating its effectiveness through a trial. Rather than making team member development t the responsibility of a single manager, we have built connections between managers across different departments. This has provided opportunities for managers to collaborate and learn from each other. We will share examples of our successes and incorporate them into our system as we continue to promote women's career advancement.
Through these efforts, we are making steady progress toward our goal of increasing the percentage of management positions held by women. It was 16% at the end of June 2021 and we aim to grow it by between 5% and 10% by the end of July 2023. We are also working hard to hire people with disabilities. We aim not only to exceed the legally required employment level but also to ensure that our workplace is inclusive and flexible for these employees. In the workplace, we consider the nature of employees' disabilities, supporting them as they carry out their duties. By fostering a safe and comfortable working place, we provide an environment where our employees can communicate with each other smoothly, regardless of disabilities.
Ratio of men to women in our recruitment
Ratio of male to female new graduates hired
in the past three years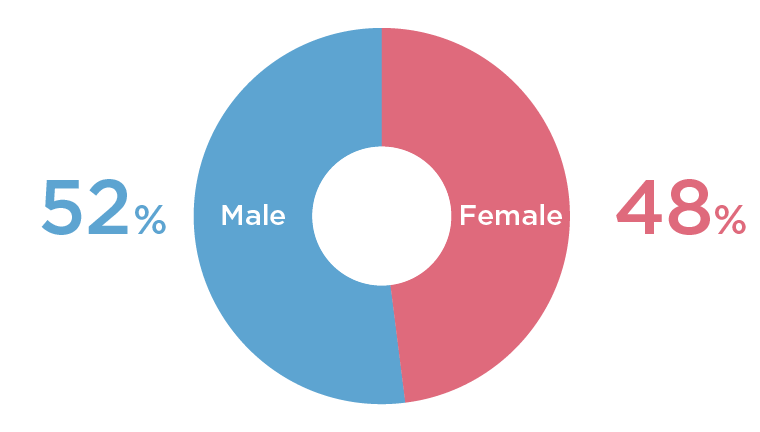 Ratio of male to female mid-career hires
in the past three years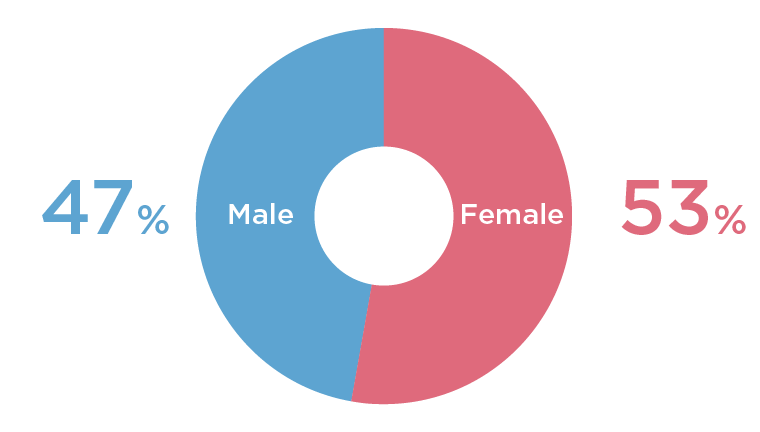 Provide Opportunities to Accept New Challenges
Employ training programs and skills development
to enable employees to grow
Training system and career path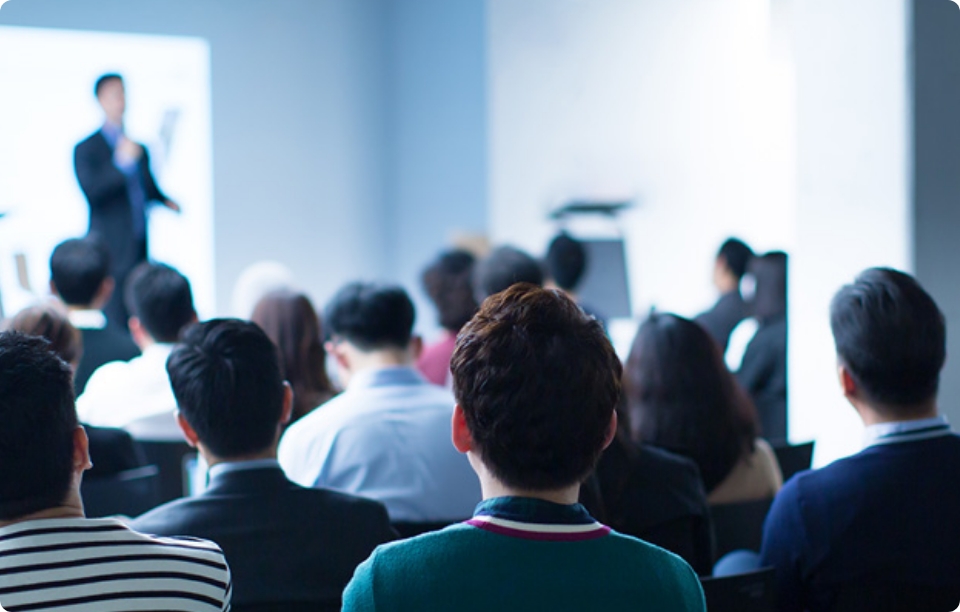 We systematically develop our people in the Group's business activities, believing that talent is the most important capital for creating added value. We actively encourage and support our employees to aspire to become true marketing partners. We provide them with opportunities for self-development, from acquiring basic skill sets rooted in our business model to improving their management skills. In addition, we operate a Management by Objectives (MBO) system that frequently gives real-time feedback toward achieving the goals set between managers and team members.
Through this interaction, we encourage individual employee growth. For our evaluation method, we use "absolute evaluation". This is a comprehensive judgment that takes into account not only the degree of achievement of each individual's goals, but also the perspective of the work execution process and the degree to which employees demonstrate our values from day to day, along with other considerations about their conduct.
In addition, we actively provide opportunities for employees to think independently about their careers and achieve their goals. For example, we have highly specialized and diverse roles such as sales personnel, research personnel, research directors, data analysts, data consultants, and panel communication personnel. On our intranet we share specific examples of skills and career paths for these grades and occupations.
Employees also discuss their career aspirations, skills and strengths with their managers. As they do so, they form an image of the career they want to build in the short-, medium- and long-term. Managers do their utmost to consider these goals as they assign work. We also create training opportunities and support career changes through an internal open recruitment and transfer system. As a result, some new graduates can become managers in as little as five years after joining the Company. In this way, we are able to create and provide career paths that meet the growth aspirations of our employees.
Launched a website dedicated to career development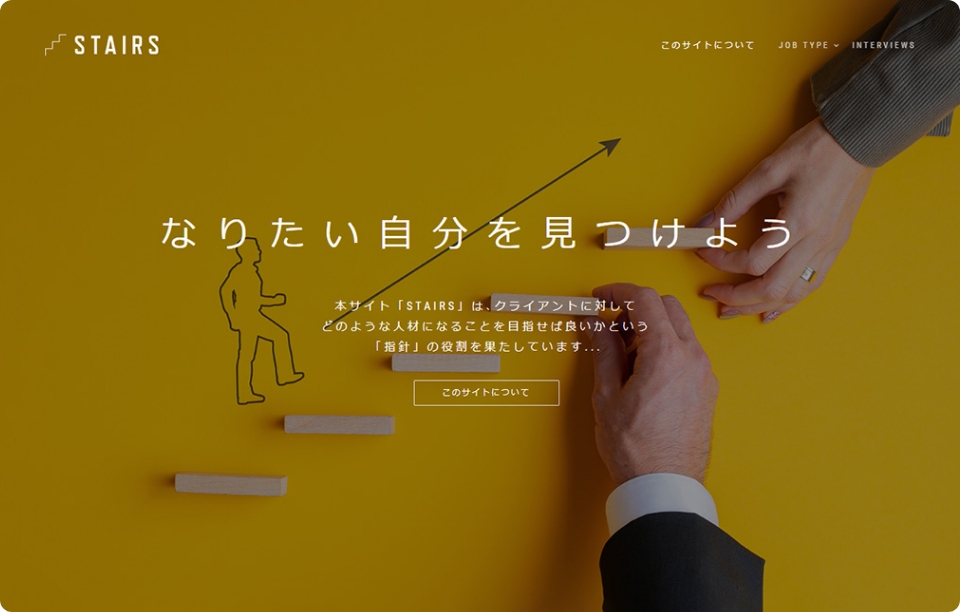 We have launched a dedicated internal website that gives practical examples of the steps employees in various positions such as sales personnel, researchers, and sales assistants can take to grow their careers.
In-House Job Posting and Transfer System
*We published an announcement of the internal job posting system on the intranet, along with stories showcasing the career paths of employees who have used this system to change jobs.
We operate an internal open job posting and transfer system to promote the independent career development of our employees. Each quarter, we publish open positions to which employees can freely apply. This is a fast initiative, with successful participants transferring to start their new roles just three months after applying. We hope that employees can gain new experience by embracing challenges, combining this with the experience and personal connections they have cultivated up to that point. In this way, they can grow into ever more highly valued team members.
Developing Data-Native Talent
An environment that
nurtures data-native talent
The nature of our business is that we support the data-driven decision-making of our clients by capturing and providing a variety of data. This includes data on awareness, digital behavior, purchasing, and biometrics.
Researchers frequently handle these diverse data sets, so they are in an environment where they can gain data literacy and expertise.
To train our researchers, we have established a three-year training program that guides their learning through the fundamentals. This step-by-step training starts from the level of an inexperienced employee, covering a variety of classroom learning modules. Periodic tests check that researchers have internalized the specialist knowledge being imparted.
We also offer a number of practical programs. These include proposal writing in an assignment format, and presentation training that takes the form of roleplaying with certain client companies in mind. Trainees can attend open lectures on separate themes to deepen their knowledge in their own specialties, interests, and career path. This system allows employees to pursue their areas of expertise.
Recruiting and training
data professionals
To accurately respond to the increasingly sophisticated needs of our clients, we hire and deploy data analysts and engineers who can help the Group to deliver added value. As of the end of June 2021, we had 47 data analysts in our workforce (about four times more than three years ago).
In July 2022, we transferred our data consulting business to SOUTH Inc., a marketing and consulting business. We converted this into a subsidiary (renamed to Eight Hundred, Inc.) through an M&A in order to grow our data consulting business. Through these efforts, we aim to expand our business base and market position.
Human resource development programs
with diverse partners
Alongside our internal training system, we provide development opportunities for our employees through the marketing and consulting firms with whom we have strategic alliances, and also through industry-academia partnerships. Specifically, we are expanding our expertise through secondments to companies affiliated with the Macromill Consortium and bringing in lecturers from affiliated companies to provide in-house training for our employees. We are also creating human resource development programs in collaboration with external organizations, such as study programs with Shiga University's Graduate School of Data Science so that our data scientists can further deepen their capabilities and knowledge.
Diverse training content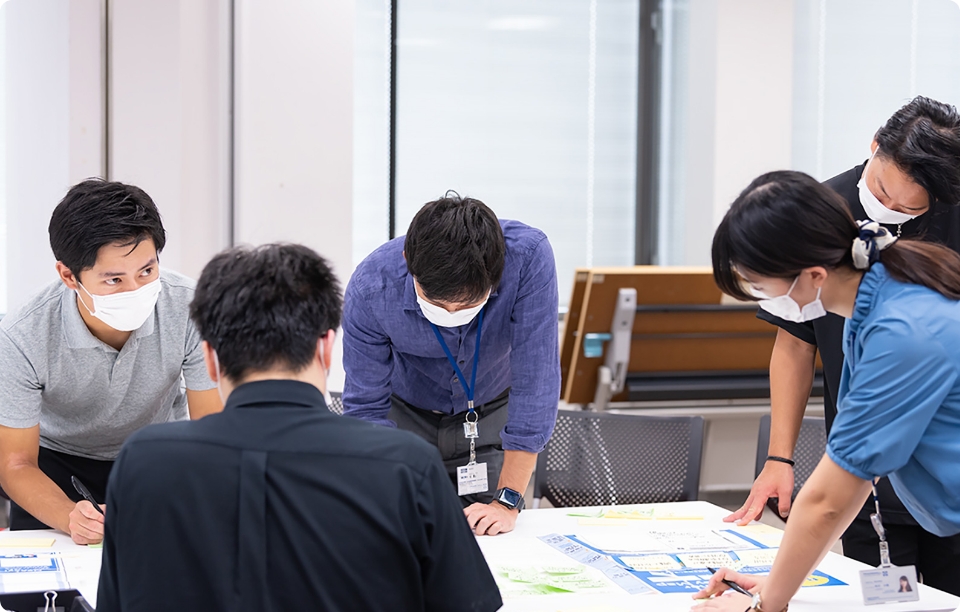 A wide range of training allows participants to learn the basics of research step-by-step, from the planning process to research design through to problem setting. There is also a wide range of educational content on a variety of themes.
In addition, to respond quickly and flexibly to environmental changes, we carry out voluntary educational projects led by on-site employees.
Employee Data
Number of consolidated employees of the Macromill Group
2019/6
Number of employees:
2,461
Percentage who are women
47%
Average age (years)
35
Percentage of management positions held by women
22%
Average age of management personnel (years)
42
2020/6
Number of employees:
2,470
Percentage who are women
49%
Average age (years)
36
Percentage of management positions held by women
28%
Average age of management personnel (years)
41
2021/6
Number of employees:
2,637
Percentage who are women
50%
Average age (years)
36
Percentage of management positions held by women
28%
Average age of management personnel (years)
42
2019/6
Number of employees:
2,461
Percentage who are women
47%
Average age (years)
35
Percentage of management positions held by women
22%
Average age of management personnel (years)
42
| | 2019/6 | 2020/6 | 2021/6 | 2022/6 |
| --- | --- | --- | --- | --- |
| Number of employees: | 2,461 | 2,470 | 2,637 | 2,923 |
| Percentage who are women | 47% | 49% | 50% | 52% |
| Average age (years) | 35 | 36 | 36 | 37 |
| Percentage of management positions held by women | 22% | 28% | 28% | 32% |
| Average age of management personnel (years) | 42 | 41 | 42 | 43 |
Number of employees of Macromill, Inc.
2019/6
Number of employees:
1,063
Percentage who are women
47%
Average age (years)
32
Percentage of management positions held by women
12%
Average age of management personnel (years)
32
2020/6
Number of employees:
1,029
Percentage who are women
48%
Average age (years)
32
Percentage of management positions held by women
16%
Average age of management personnel (years)
32
2021/6
Number of employees:
1,088
Percentage who are women
48%
Average age (years)
33
Percentage of management positions held by women
17%
Average age of management personnel (years)
33
2022/6
Number of employees:
1,185
Percentage who are women
49%
Average age (years)
33
Percentage of management positions held by women
18%
Average age of management personnel (years)
38
| | 2019/6 | 2020/6 | 2021/6 | 2022/6 |
| --- | --- | --- | --- | --- |
| Number of employees: | 1,063 | 1,029 | 1,088 | 1,185 |
| Percentage who are women | 47% | 48% | 48% | 49% |
| Average age (years) | 32 | 32 | 33 | 33 |
| Percentage of management positions held by women | 12% | 16% | 17% | 18% |
| Average age of management personnel (years) | 32 | 32 | 33 | 38 |