Initiatives for Certain Stakeholder Groups

Clients
Solve Marketing Issues
The Macromill Group's business model
and client relationships
The Group offers a range of research solutions to more than 4,000 client companies globally. To do this, we maximize the opinions and various data points from over 100 million consumer research panels both in Japan and internationally.
As consumer attitudes and purchasing behaviors continue to diversify, the marketing challenges that client companies face are becoming increasingly difficult. That is why solving all the issues client companies face requires us to understand not only research issues but also the bigger picture that surrounds marketing issues.
The Group has operated as a marketing research company that solves client research problems. We believe that to continue to grow over the medium- to long-term, however, we must become a partner that collaborates with our clients, going beyond their research issues to solve more fundamental marketing issues. Against this backdrop, our Medium-term Business Plan calls for us to transform our business model from a marketing research company to a professional marketing services company.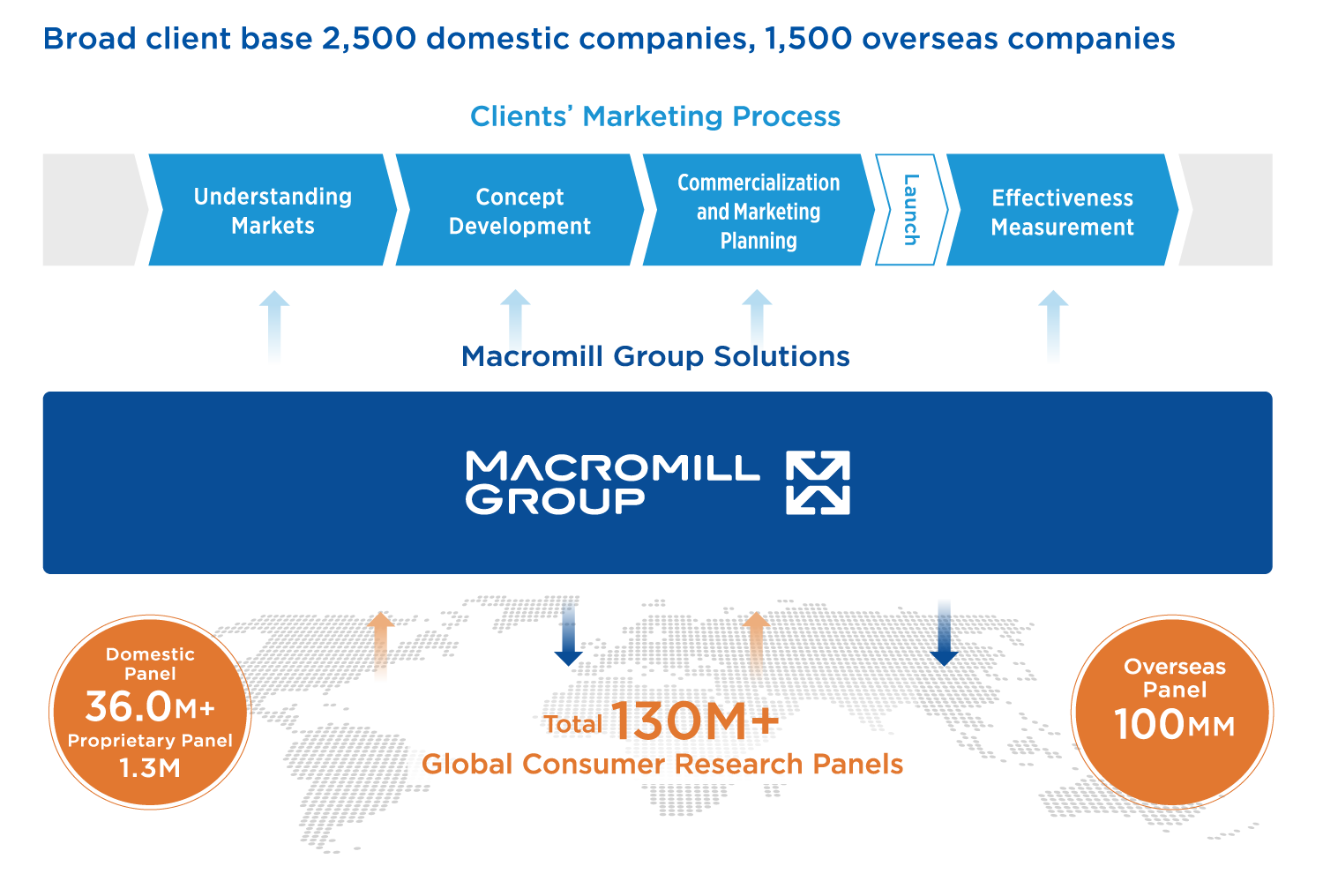 New relationships with clients - The intention behind our Vision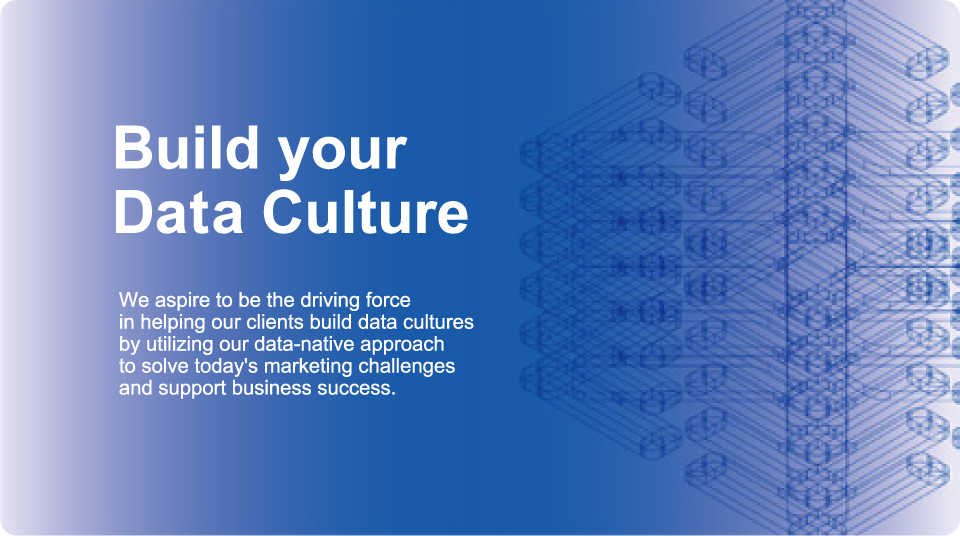 Since the Group was established, it has consistently built its business around handling data. With a data-native mindset, we have sought to provide concrete solutions to our clients' marketing challenges. In addition, we want to help client companies make smarter decisions so that we can realize a better society. Going forward, that basic stance will not change. We also believe that to continue to make smarter decisions, client companies need to make data-driven decisions the norm—in other words, to build a data culture.
Our new corporate Vision, which we defined for the fiscal year ended June 30, 2021, originates from our desire to be a driving force of data culture.
Going forward, we aim to expand innovation across marketing business areas by providing innovative services that use a variety of data from our proprietary consumer research panels.
Creation of New Value through Data Utilization
Creation of new value
based on our proprietary consumer research panels
*Please scroll horizontally to view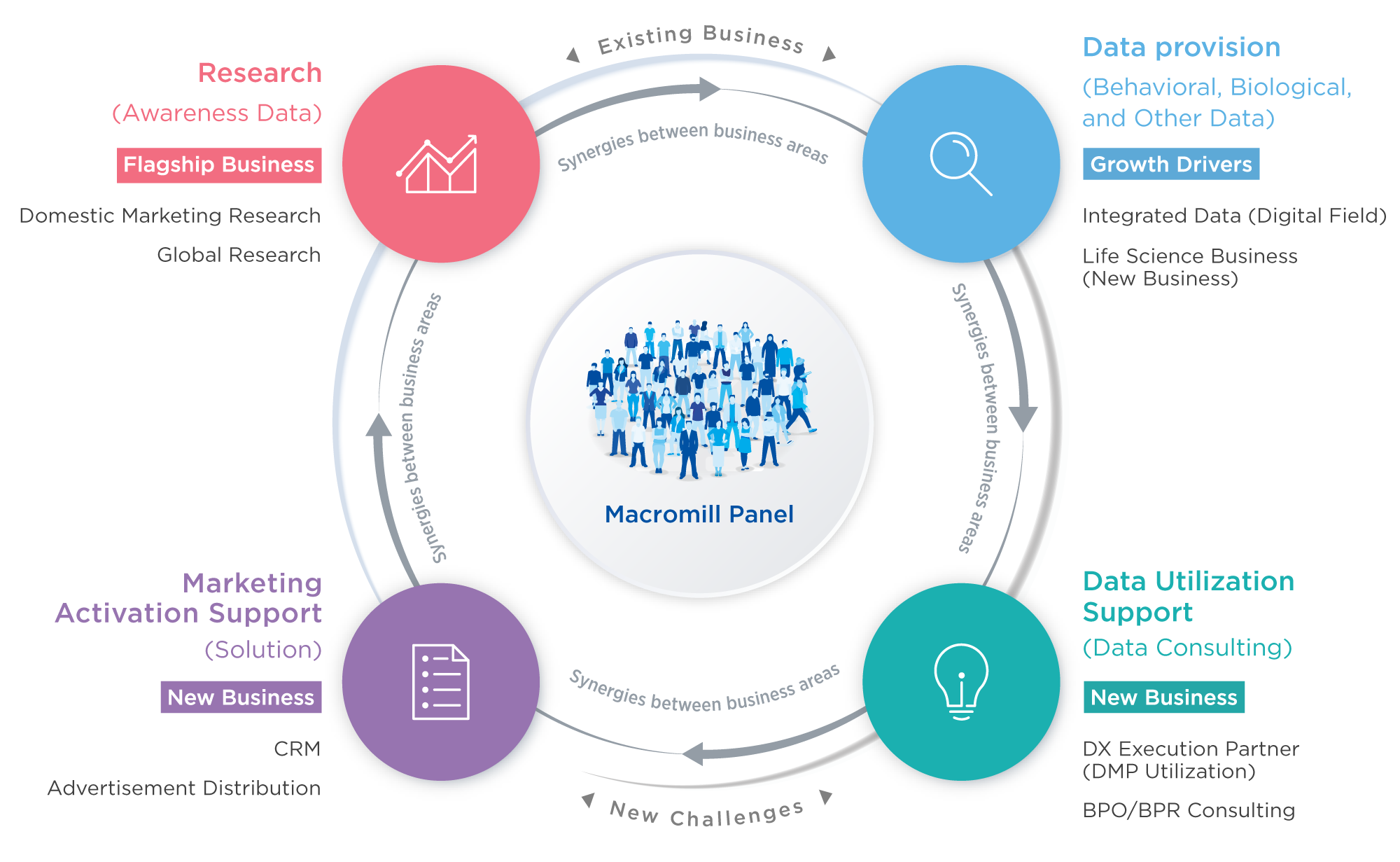 As companies accelerate their digital transformation (DX) activities, we believe that the use of data in marketing activities will further expand in the future.
Client companies collect and generate a variety of data on a daily basis. But they struggle to use this data directly in their marketing activities due to issues such as insufficient attribute data and granularity. So, in addition to the existing challenges of increasingly complex consumer perceptions and the need to respond to rapidly changing marketing activities, client companies now face a new challenge of utilizing data.
Macromill identifies overlaps between consumer research panels (proprietary panels) and user data held by client companies. By supplementing and synchronizing this data with our own, we are able to enhance the value of the data held by client companies into data that can easily be used in marketing activities. This is made possible by the scale of our proprietary panels, and the trust our panelists place in us when they consent to the utilization of their information. We are able to do this because we have achieved a position of trust with both our panelists and our clients.
In FY6/2022, we launched our data utilization support (data consulting) business, which leverages this positioning to use the daily data that client companies need for their marketing activities. In addition, we believe that this business will lead to the provision of more innovative services in the future, such as a marketing activation support business that directly supports the marketing activities of client companies, including advertising distribution.
We will pursue the creation of new value through these businesses and aim to build a unique approach to solve our clients' marketing issues.